Istanbul, Turkey, August 2017
I waved down the bus and climbed aboard. I handed a bill to the driver and asked, "how much?"
He waved his finger at me, "No, no, no." indicating that you don't buy tickets on the bus and that you need them before you board.
"What? Where do I buy tickets?" I asked so confused.
He waved me through and let me ride for free. I soon learned that you buy an integrated metro card from any metro station it will let you ride any bus and metro throughout the city.
I chose to stand holding onto Matteo and holding onto a pole in the center of the bus, everyone kept getting up and offering me their seats —I kept trying to explain to them why I'd rather stand. 
 "If I sit down he will wiggle his way out of my arms and start running through the bus." I said mostly using sign language because I didn't know a single word in Turkish.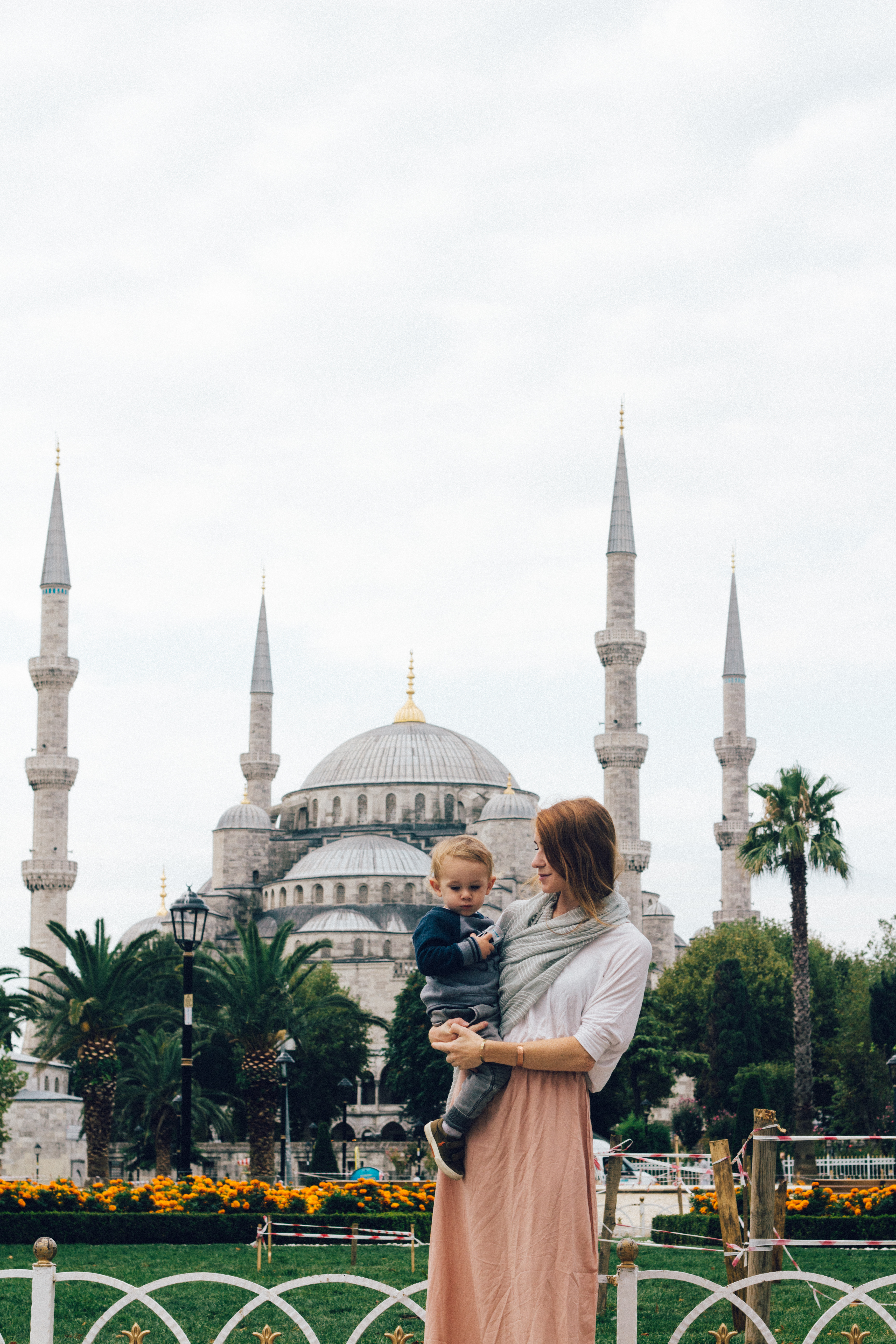 We arrived at the Metro —but instead of taking it across the bridge I decided to walk. It was a lovely day, the wind was blowing and fishermen were casting out their lines all down the bridge. We stopped for a minute to watch a man reel in a good size fish to which Matteo congratulated him by saying, "wow wow wow." The city looked beautiful from a distance, and even more beautiful the closer we got.
We arrived on the other side to an open plaza with street vendors selling what looked like bagels and roasted nuts (which I never tried but always wanted to). I let Matteo free from the stroller and he ran through the plaza chasing the pigeons and yelling "quack, quack, quack." Everyone around smiled and tried to pick him up, but he quickly got away and continued running after the birds.
It was a daily occurrence for Matteo to be picked up by random Turkish men and offered candy from their shops. He came to expect a lollipop or a chocolate every time he saw one of the MANY shops selling candy and Turkish delights, also known as Lokim, which is a gummy like Turkish treat usually made with pistachios or pomegranate.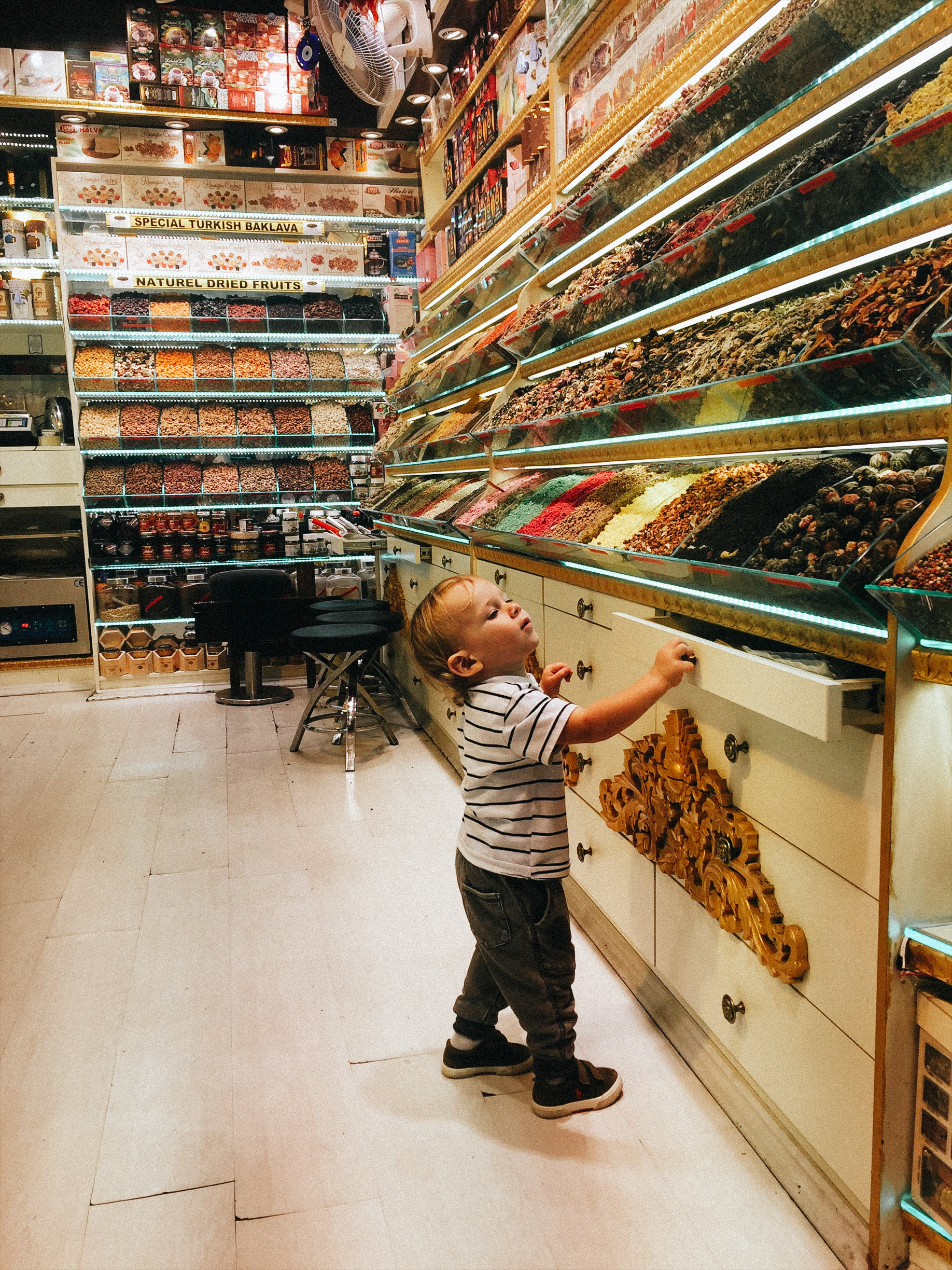 According to google maps, the Grand Bazaar was only 1/2 a mile away. So I decided to head in that direction. What google maps didn't tell me was that it was 1/2 a mile all up hill. As I pushed the heavy stroller uphill, I felt a little bit like King Sisyphus, who according to Greek Mythology, was condemned to roll a giant boulder up a steep hill.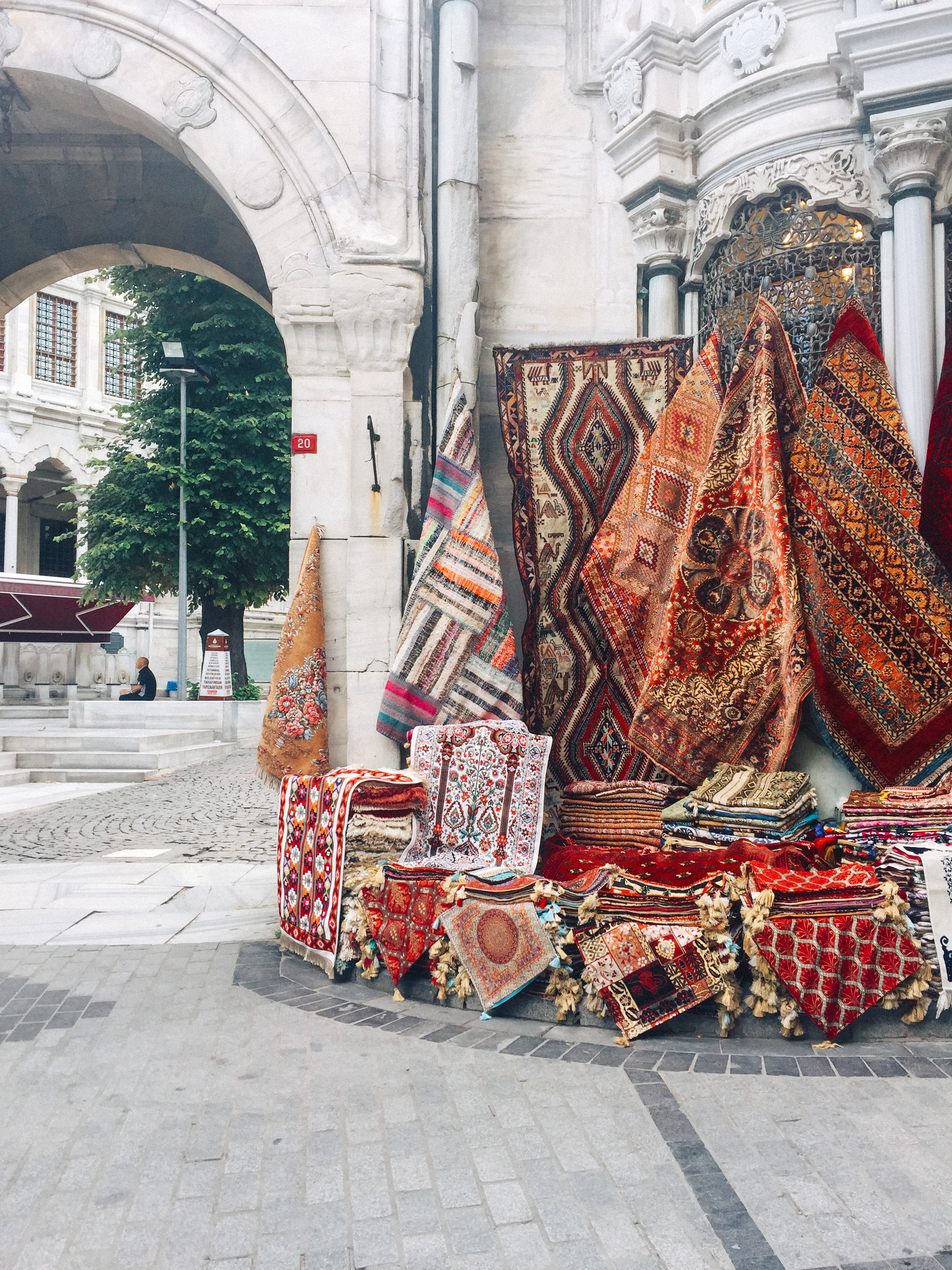 I was surprised to find that the Grand Bazaar was actually indoors and resembled more of a 15th century mall, then the tent and crowded streets I had envisioned in my head. It had beautiful ceilings throughout and arches down every street, it wasn't very crowded at all. There were merchants selling beautifully crafted tea glasses, and rug shops on every corner, "Do you want to buy a rug?" An eager salesman asked.

"
I can't I'm traveling and don't want to carry it with me. They are beautiful though." I said admiring the intricate designs.
"It's okay, we can ship it to your house." He countered.
"Yes, but, I don't have a house. I only have a suitcase. But if I had a home, I would fill it with a thousand of these carpets. " He looked at me strangely and then walked away.
Turkey almost made me want to own a home just so I could fill it with all the beautiful things I saw while walking through the Grand Bazaar. Colorful spices in giant vats, beautifully decorated tea glasses that looked like they belonged in a palace, carpets hanging from the ceiling, the beauty of it all was swirling through my head until it landed on a memory.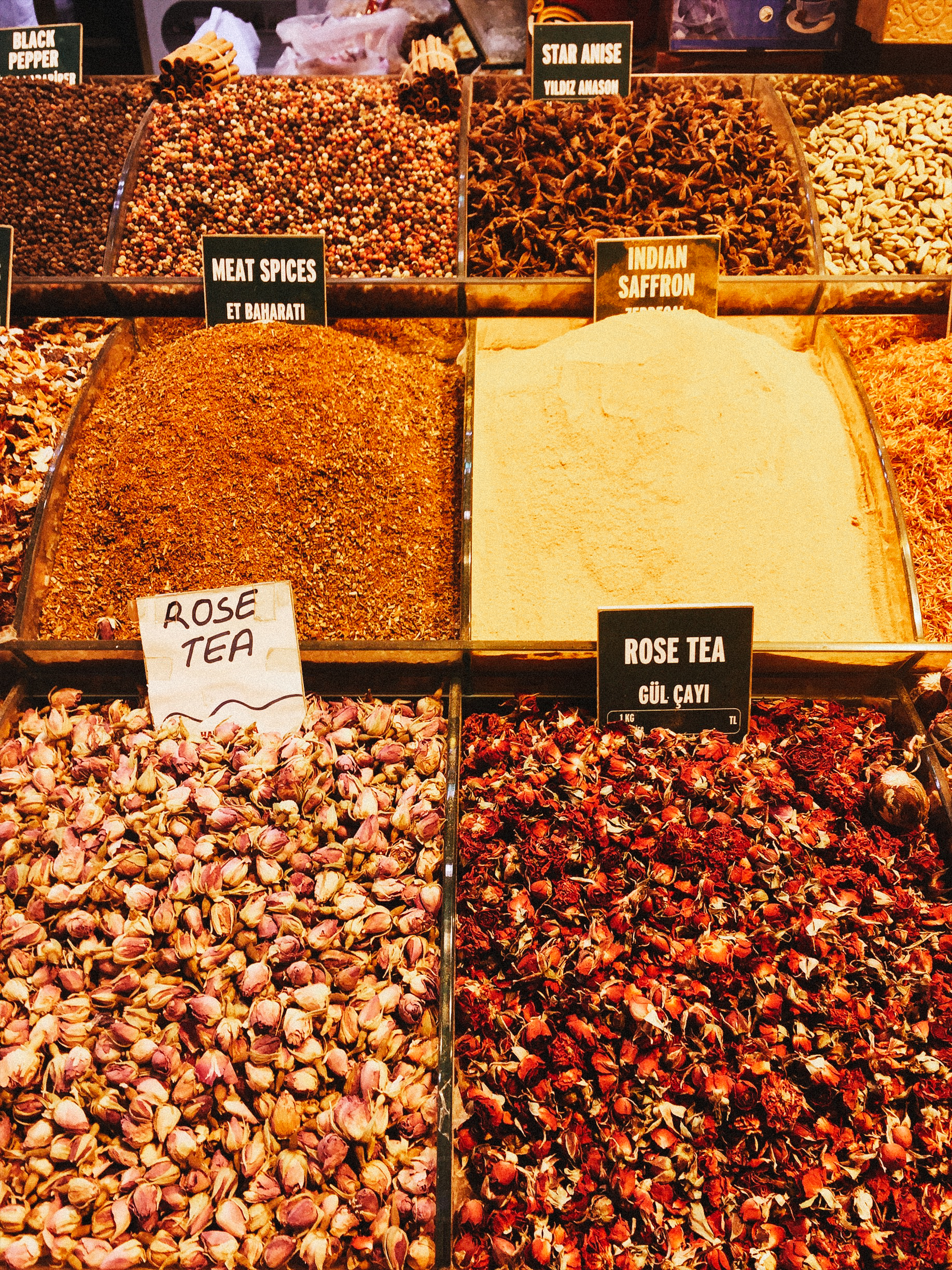 La Costa, Colombia, October 2016.


"This is where I want to build a house." He pointed to a grassy plain overlooking a small pond. "What do you think?" He asked.


"It's a great spot, I like it much better than the other place by the river. There were too many mosquitoes over there." We had been walking for hours by the river on his cattle ranch, enjoying the nature and showing Matteo the wild animals.


"Look, this is where the front would go, I want it to be facing west so you can see all the cattle fields from the front porch." He started pacing and imagining the shape of the house. Cattle were feeding a few feet away from us and Matteo was in my arms squealing with excitement trying to get their attention.


"Where should the Kitchen go?" He asked me. 

I gave him my opinion but he a disagreed. "Fine, but if I'm going to be living and cooking in this house I want the kitchen to have A/C." I demanded.


"This is a cattle ranch." He said as if I just demanded something completely irrational. 


"That's exactly why I want A/C in the kitchen." I reasoned.


He ignored my request and kept going, "I like the river spot because it has a lot of trees and it's almost hidden. I would need to plant trees around here, but they would take forever to grow." 


"Yes, but there were swarms of flies around there because of the fruit trees and the mosquitoes are so bad you would never want to be outside. It's prettier there, but I kind of like that this spot has a wide open view of the ranch." I said. 


"It is pretty nice right here." He agreed. 


We were in the middle of nowhere Colombia, surrounded by thousands of cattle and horses and all sorts of creepy crawly creatures, in the intense heat and humidity dreaming about building our castle. Steps here, bedroom there, living room over in that corner…little by little we were laying imaginary bricks until the place was coming alive in our minds. 


We stood there for a while, watching the sunset from our imaginary porch, Matteo in his daddy's arms. I was almost too happy.
We then made the long trek back to the farm house, showered in our clothes from the tap under the water tower because we were so hot and sweaty, cooked dinner in that dirty, hot, greasy farm kitchen, and ate with all the workers at the table. 

We didn't have our own house, just an old room with a mosquito net and ceiling fan, we didn't have nice things, but together we were home.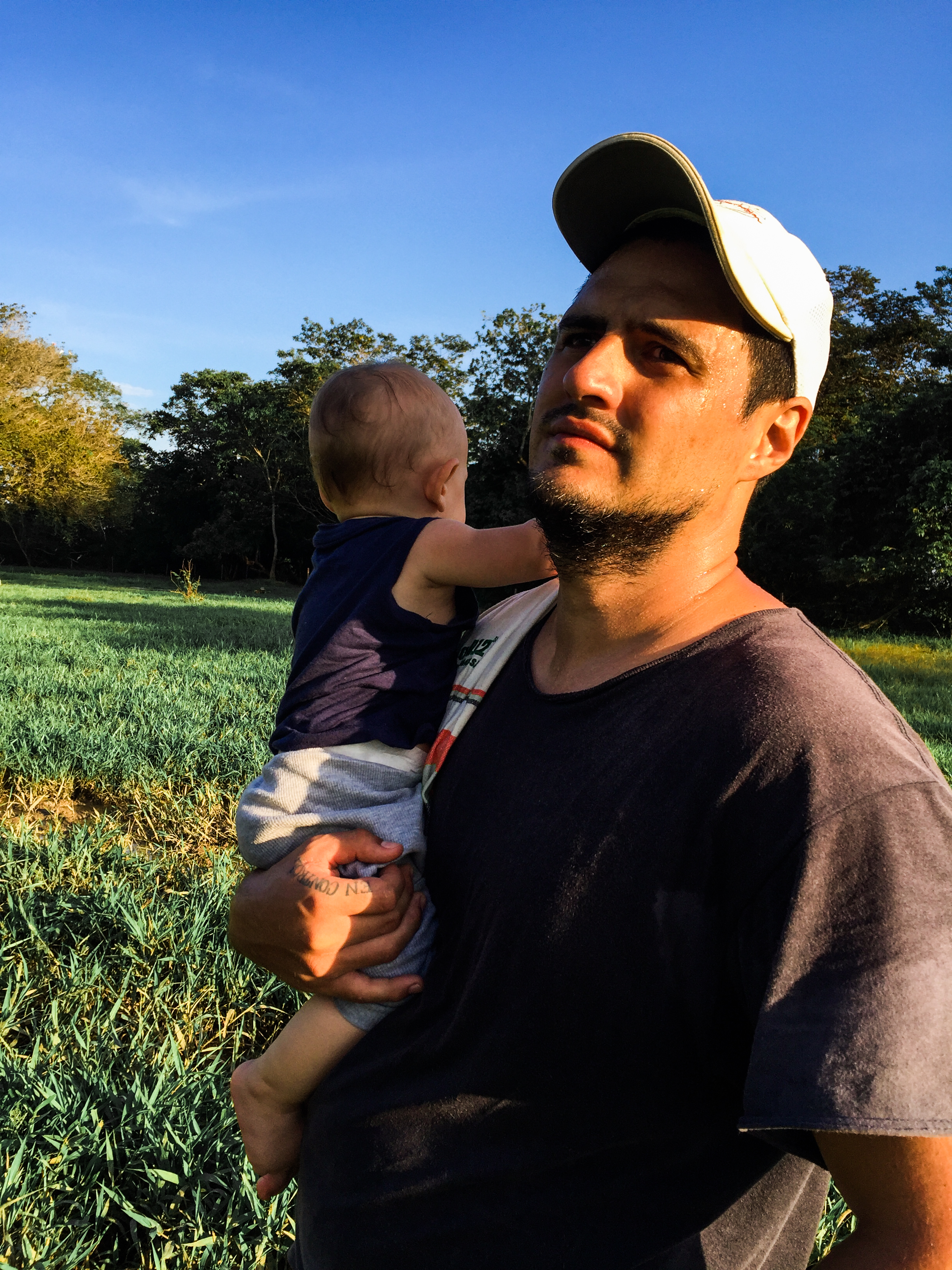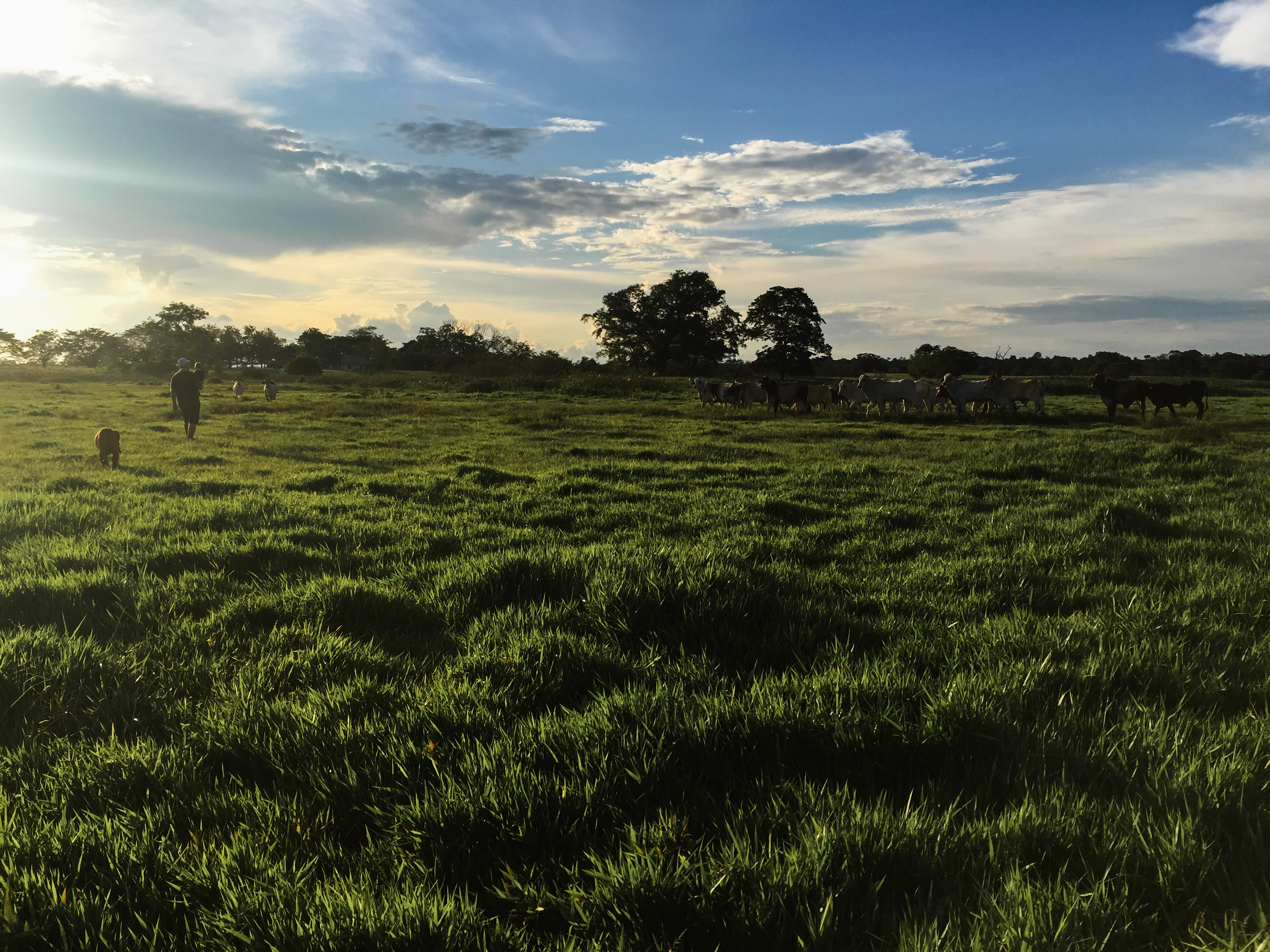 __________
TURKEY EXPENSES
FOOD $482.43
HOUSING $315 ($110Instanbul) ($70 Cappadocia) ($115 Kasadusi) ($20 Pamakkale)
TRANSPORT $75.57 (Taxi, buses, metro, and an overnight bus from Cappadocia to Pamakkale to Kasadusi)
EXCURSIONS $84.21 (Museums in Istanbul, Private Taxi Ride around Cappadocia, Pamakkale entrance fee, Ephesus entrance fee)
MISC:
HOSPITAL/PHARMACY $146 (Matteo had pharyngitis -a throat infection)
DIAPERS $30
TOYS: $20
CLOTHES: $18.40
ATM FEES $34.02
VISAS $40
TURKEY $1245.63 (3 WEEKS)
FLIGHT: $150
Where we stayed:
Istanbul : I loved this airbnb because it was centrally located, there were probably 100 restaurants within 10 minutes walking distance all around, the room was clean and had an old Turkish charm about it.  Also, the price was amazing.
Cappadocia : This cave hotel was one of my favorites.  The room was beautiful, the bathroom completely updated, and it included breakfast every morning, which was the best breakfast I had in Turkey.  It was a 5 minutes walk to the center of town, had a great view of the valley, and was a 7 minute walk from Sultan Cave Suites which has the best view of the balloons.
Pamakkale: We only stayed here one night, but I would have loved to have stayed here longer.  The room and bathroom were both updated and modern, sparkling clean, and the breakfast was amazing.  It was only a 10 minute walk to the entrance of Pamakkale which was really convenient.  Also, within 5 minutes you'll reach the center of the town and there was the best Chinese restaurant I've ever been to.
Kasadusi (Ephesus) :  The room in this hotel was nice and it had A/C, however, the bathroom definitely needs to be updated.  But I loved how it was only a 10 minute walk to the beach and all the beach restaurants, also it was right on the path to catch the bus to Ephesus which is about 30 minutes away.  One of my favorite parts about Kasadusi was the walk home every night from the beach through the quaint neighborhood.  There were so many rose bushes and blossoming trees that the air smelled so beautiful every evening.