Jaffa, Israel, August 2017
I pressed the red button on the bus indicating I would like to get off at the next stop.  I wasn't certain of where I was, but I knew I was somewhere in the middle of Jaffa and with it being so small I knew I could find my way to what I was looking for.  It had been almost 2 years since I had been in Israel, and as I walked the streets I felt as though nothing had changed –and yet everything had changed.  The sea breeze blew through Matteo's blonde curls as we walked along the boardwalk stopping every few feet for him to peer through the breaks in the wall.  In ancient times, Jaffa was a busy and important port city along the trade route, today it's mostly an Arab-Israeli neighborhood and the port is used more for commercial tours and local fisherman.
We wandered through a maze of streets as I tried to recall from memory the exact location of the wall art I was looking for.   I had reached the point where I was about to ask a local for directions when it appeared around the corner.
Like Dorian Gray, who had a portrait which revealed who he was on the inside, these wings changed and faded over the years to reflect the pain and struggles I had gone through.
May 2013 –The summer before I met Andres.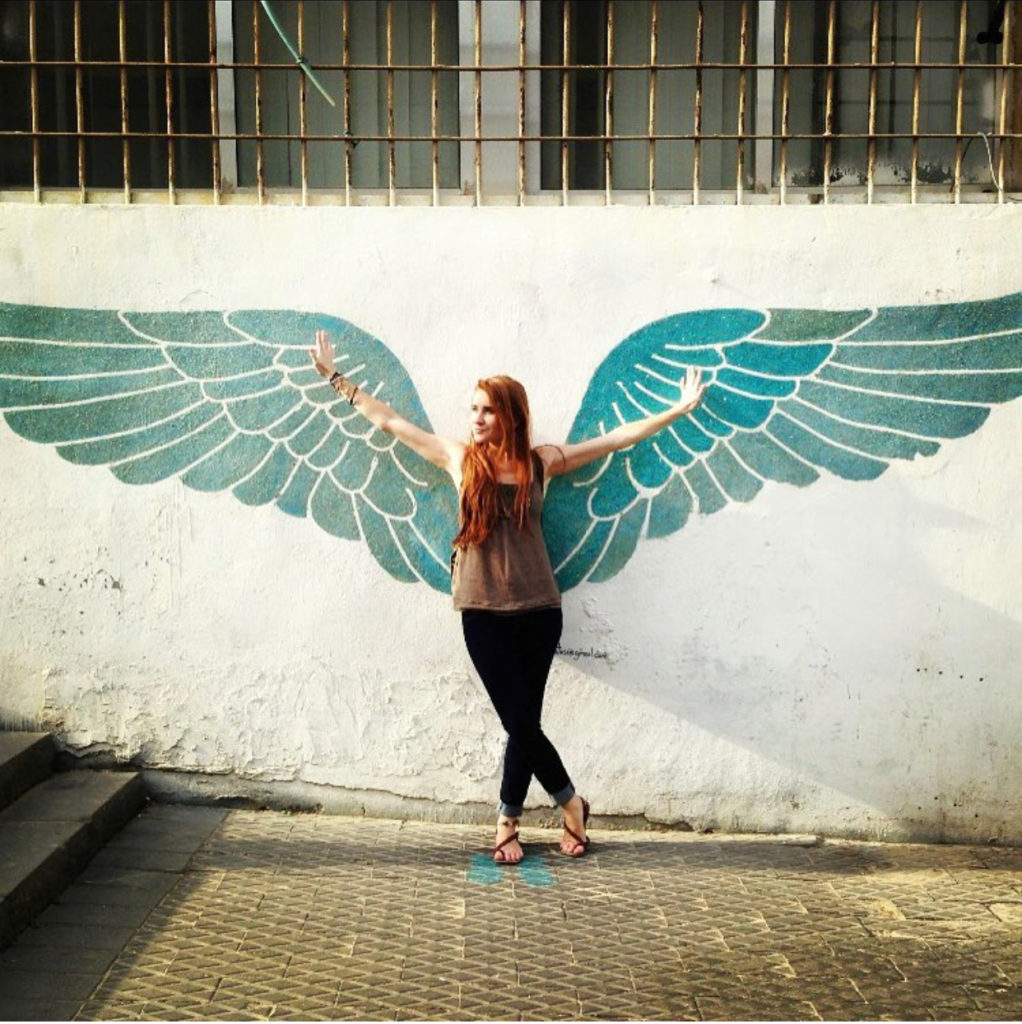 November 2014 –Six Weeks after miscarrying my first baby.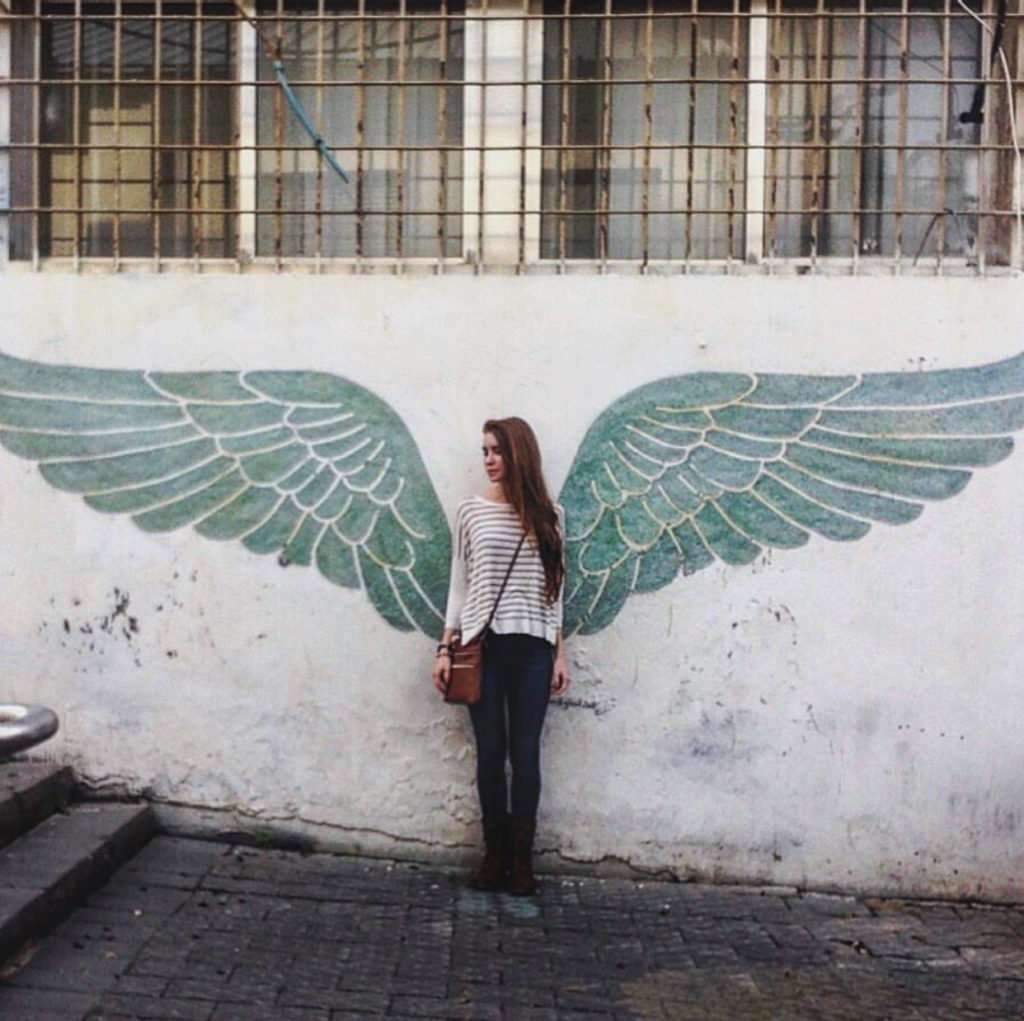 July 2017 –Seven months after losing Andres to depression and suicide.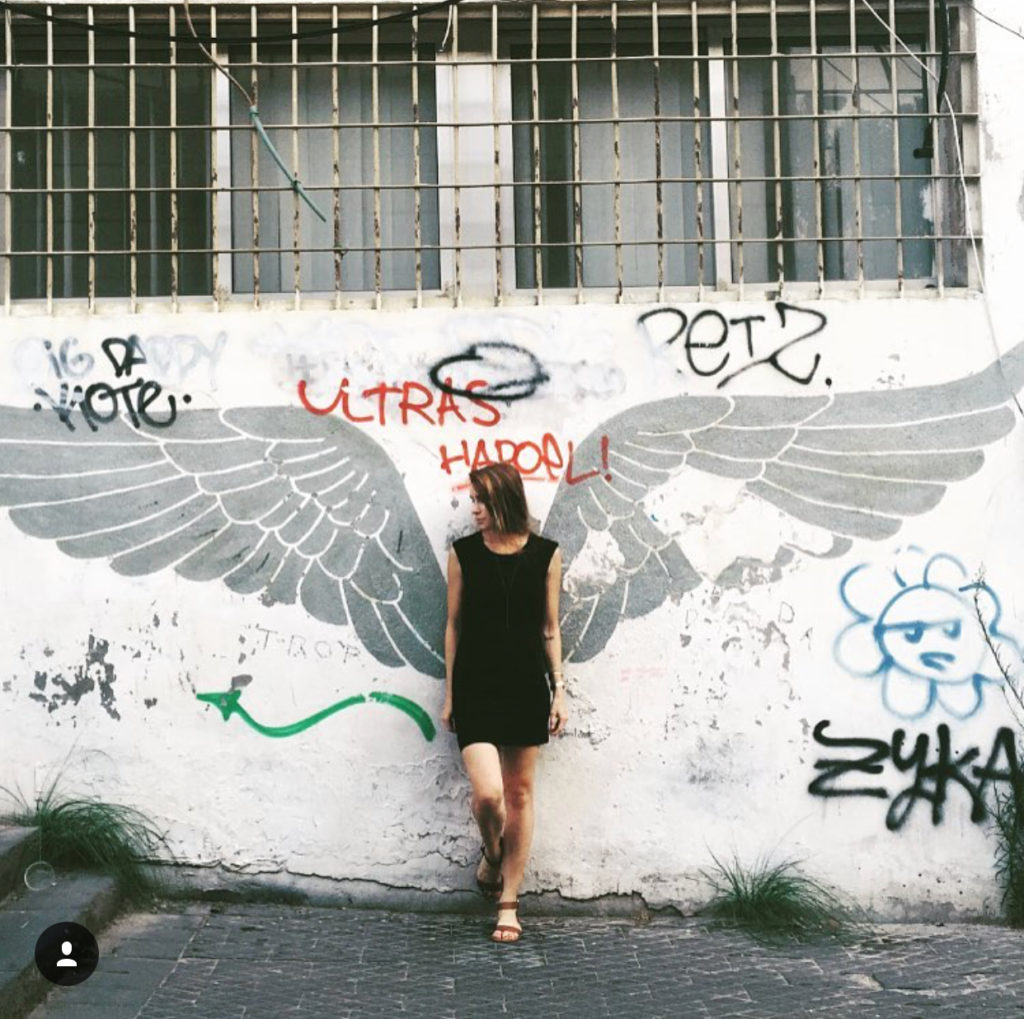 Medellin, Colombia, August 2016
"Why did you write this about me?" I handed a small notebook to Andres that I had found on a table by his bedside.
He looked at the notebook and looked at me, yet didn't say a word.
"Look here," I continued as I flipped to another page. "It's dated back from the time period when I was pregnant and you refused to talk to me.  In fact the only conversations we did have you made it clear that you wanted nothing to do with me or the baby.  So why did you write this?" I asked confused.
There on the notebook I had found pages of his random thoughts and scribbles that had been jotted down, probably in the early hours of the morning when he couldn't sleep. My name was written on a page beside the word "angel" and beneath it a Colombian nursery rhyme that is said to little children when they get hurt:
Hosanna – Angel – Sana
Sana que sana,                |    Heal o heal
Colita de rana                  |    little tail of the frog
Si no sanas hoy               |    If you don't heal today
Sanarás mañana.             |    You will heal tomorrow
"You really want to know what I've always thought of you?" He asked with a serious expression on his face.
I nodded my head, unsure if what I was about to hear was going to be positive or negative.
"I've always thought that you were an angel who was sent here to help heal me." He said.
I stared at him speechless,  not knowing what to say or how to react, with tears welling up in my eyes I let the moment pass in silence.
It was in that rare moment of honesty that I caught another glimpse of his heart, the one he kept hidden and buried beneath a world of pain, and the one I fell in love with, the one I fought so hard for him to see himself.

Angel you sing
about beautiful things
and all I want to do is believe
but I traded my dreams
for this mess of memories
and they just stopped working for me
-Matt Nathanson, "Angel"