Rome, Italy, September 2017
Rome, the Eternal City, was not how I had imagined it to be.
"This is it?" I thought to myself.
Crowds of tourists swarmed in the street, every historical site was packed with people elbow to elbow trying to get an inch closer to the front of the crowd. The lines were hours long and hardly worth the wait when the magic of the moment was killed by being crunched into a small room with hundreds of people with all their cameras and selfie sticks trying to get a good photo of a ceiling.
"I'm done.  I can't breathe. Let's go." I said to Matteo who was more than happy to exit the crowded room.
No more tourists sites.  I was done trying to see anything of historical value.
We had just arrived the previous day from Egypt where we had all the historical sites to ourselves.  Also, unlike Egypt, as I looked around the city, not much of anything ancient remained. Rome is a city of layers, most it's past and history has either been buried or torn down and rebuilt. To me, Rome looked like it needed a really good power wash. Most of the buildings, while pretty and charming, just seemed dirty –and not in authentically aged city way.
Since I was no longer going to fight my through crowds just to catch a glimpse of something I decided I was going to "Eat my way through Rome".  I love Italian food, I consider myself sort of an Italian chef wanna-be, so I was really excited when I started researching all the best restaurants and hole-in-the-wall places to eat.
First we decided on Pizza at a top rated restaurant just outside the tourist district. I couldn't wait to try my first "real" Italian pizza.  When the waiter brought it to the table, I stared at the paper thin pizza and hoped it tasted better than it looked. Matteo and I were both disappointed in the "Roman" style Pizza.  The dough tasted like saltine crackers and the sauce had zero flavor.
"It must have been a fluke." I said again to myself, determined to keep trying until I found the perfect pizza.
That evening as we were heading out of the tourist district and back to our Airbnb, we stopped at a small pizza/pasta restaurant which was packed with locals.
"Let's get Spaghetti! You love Spaghetti!" I said to Matteo.
The waiter, who I believe was the owner, came after what seemed like a lifetime and took our order for Spaghetti and meatballs. After another long wait, our plate of spaghetti arrived and I quickly cut up a portion for Matteo who by this time was starving.
As I spooned the first bite into his mouth his instant reaction was to spit it out. "Matteo! Eat the spaghetti! It's yummy! Look, Mama's eating it." I took a bite and instantly understood his reaction.  The sauce tasted like they had dumped a can of tomato sauce on it –not the ready made spiced kind, but plain tomato sauce.  Absolutely no flavor. I sprinkled a little salt on it hoping to make it a little more bearable..but to no avail, Matteo refused the boring pasta and munched on a piece of bread instead.
"What bad luck!" I couldn't believe that our first day in Rome had been very disappointing.
The next week I spent every day searching low and high for a great pizza –I tried it all from the metro station takeaway pizza, to overpriced Neapolitano pizza, to top rated pasta restaurants, to hole-in-the-wall restaurants, I scoured every neighborhood in Rome for good Italian food; and while most of what we ate wasn't horrible, it just wasn't amazing.  The food lacked the robust garlic, basil, and oregano flavors that I had associated with Italian food. Most of the pizza sauces tasted bland, and almost all of the pasta sauces were boring.  At first I thought I was going crazy and didn't want to share my findings with anyone –especially not on social media.  Italy has been crowned the country with the best food, who was I to say the food was below average?  I started googling and found forums where people had thought the same thing as me.
"So I'm not crazy!"  I thought and let out a sigh of relief.  Other people found the food boring and bland as well.
Since our Airbnb had a nice kitchen, I decided to cook my own Italian food for the entire second week we were there.  Most of our days we stayed close by in our neighborhood, eating homemade pasta and pizza every day –which I have to admit, the ingredients to cook with are better there, and drinking delicious Italian coffee from a local coffee shop everyday.
"I like this. I like this side of Rome." The dirty buildings, broken glass in the streets, quiet neighborhoods, home cooked meals, every day life of a Roman citizen.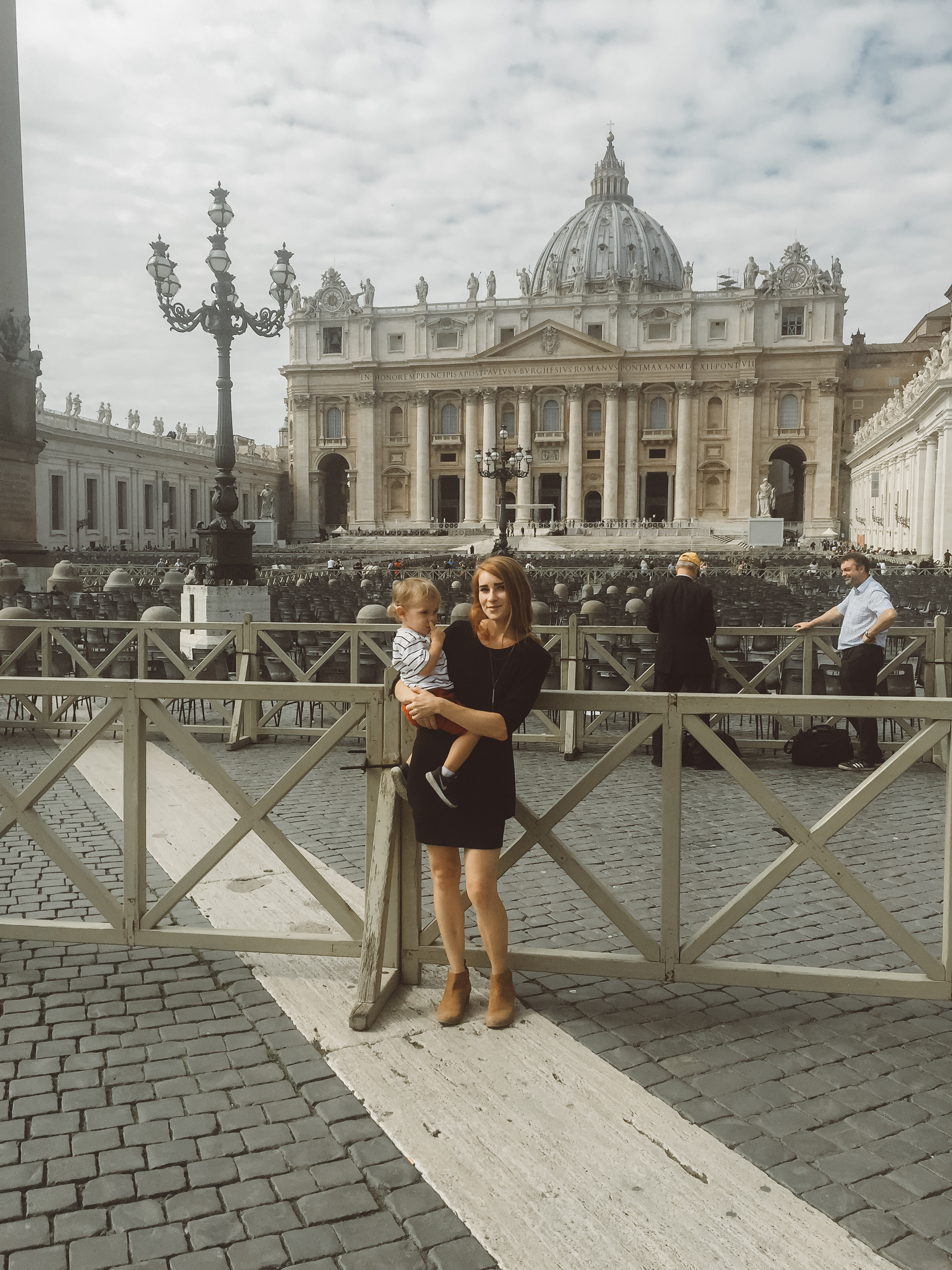 Medellin, Colombia, July 2016
It was Sunday morning and the sun was shining through our window. Tired of being trapped in the house all week because I was too worried to leave Andres for long, I decided to go for a walk to the local farmers market. I put a light jacket and socks on Matteo, as the mornings in Medellin were on the cooler side. I pushed the red stroller up the hill to the avenue which was free of vehicles. Every Sunday morning they closed down one lane and turned it into a walking a street where people come out and exercise. It's a very social thing, you will see people selling juices and snacks on the side of the road to those passing by. We walked for a while before crossing the other lane at the entrance of the farmers market. My goal for this morning was find the best and ripest red tomatoes. While in Phoenix I had begun to make my own tomato sauce from scratch and wanted to prove to Andres, that I knew how to cook. Four pounds of tomatoes and one happy baby later, we left the farmers market and headed home —making a quick stop at Krispy Kreme and Starbucks first.
Since Andres wouldn't be awake for hours, I knew I had plenty of time to start the sauce. 
I put Matteo in the bouncy chair and started to work. Peeling the skins, gutting the tomatoes, dicing them —it was a lot of work and I was halfway through the giant pile when a voice startled me.
"What are you doing with all those Tomatoes?" 
I turned to see Andres standing in the doorway holding Matteo in his arms.
"What are you doing up? It's only eleven." I said surprised to see him awake this early.
"I couldn't sleep," He said as he opened the Krispy Kreme box that I had left on the counter. 
"What's this for?" He asked.
"Oh for whoever wants a donut. There was a special today so I got an entire dozen." I said cheerfully.
"Where's my mom and dad? Are they here?"
"No, they left awhile ago to go to Mass." I answered.
"So what are you making?" He looked critically over my shoulder.
"I'm going to prove to you that I know how to cook and make the best tomato sauce you've ever tasted." I said confidently as I threw a pile of diced tomatoes into the pot.
"Yeah right, like that time you made the —what did you call it? "Man winning Pasta"."
He was referring to a time a few years back during my first trip to Colombia.
"In my defense, Andres, we had been fighting that night, you were telling me how you didn't love me and never would, I was an emotional wreck, and the garlic press broke so I had to chop the garlic with a knife which led to me chopping and using way too much and resulted in the pasta tasting too garlicky. Also, you had told me once while we were in the U.S. that you only liked the mushrooms from Colombia —which is why I PUT Colombian mushrooms in the pasta."
"You don't know how to cook." Was his only reply to my defense monologue.
"GO play with Matteo somewhere else." I said exasperated.
"Well, what are you going to put in it?" He asked curiously. Clearly he was interested in the tomato sauce making process.
"I'm going to cook down these tomatoes and then add fresh garlic, basil, oregano, and the secret spice ingredient that I brought with me from the U.S."
"It sounds boring." He concluded after hearing my ingredient list.
"Oh trust me, it won't be. This sauce is amazing. Just you wait and see."
I slaved in the kitchen for the next 3 hours, stirring and adding spices until the sauce reached my desired flavor. 
"Andres!" I called.
"What?" He shouted back from the couch upstairs where he was watching his iPad while Matteo played with toys at his feet.
"Come taste it!" 
Never missing a chance to be a food critic, he came downstairs and grabbed a spoon and took a bite of the still too hot sauce. 
I couldn't tell if his reaction was disgust or pain at first. It was pain. Definitely pain.  He went for another bite, and another one.
"It's good. Really good." He said as went to heat an arepa to put the sauce on.
"This would make a really good pizza sauce," He concluded. "It's got all the right flavors."
My eyes were shining with pride. This was the first compliment I had ever received from him about my cooking. 
That evening, after I had put Matteo to sleep, we sat on the couch watching a television show and talked about opening a pizza restaurant. It was a wonderful evening —instead of his usual critique, he will full of praise. I made the tomato sauce every Sunday from then on.